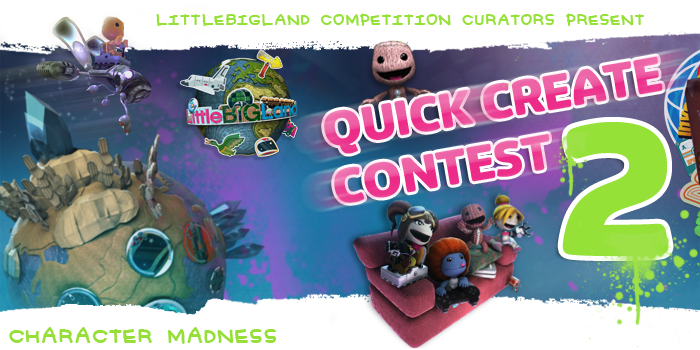 Are you ready for some more mad dash creating ? Good! Because we are here to announce the theme of our second Quick Create Contest: Character Madness! This time we want you to create a character.
You are challenged to create a character in LittleBigPlanet 2 using materials (No Sackbots) You then have to create a small backdrop to place your character in and most importantly, place a photo booth camera in the backdrop that will automatically take a picture of players with your character.
Contest ends this Sunday at 11:59 PM EST
Once you have made your character and backdrop, publish it on the LittleBigPlanet servers and post an LBP.me link to it in this thread.
Please use this format when posting:
Here is my entry for the QC2 Contest:
(LBP.me link here)
You will have to make your character using materials, stickers, decorations and objects (No Sackbot characters) Much like the characters in LittleBigPlanet 1
You will have to make a backdrop for your character.
Your character needs to have a short back story. You can tell the story through magic mouths and/or a short movie.
You will have to place a photo booth camera in the backdrop which will automatically take a picture of the player along with the character and backdrop.
You may only enter one entry per person.
This has to be a new entry made for this contest.
You have to add [QC2] at the beginning of your level title.
You do NOT have to make a full level, but if you do, try to keep it under 5 minutes.
You can get friends to help you. But only the person who enters will receive the prize.
If you have any questions or are unclear on anything, please post in this thread.